DeadFamousGirl
Junior Member


Registered: Oct 2009
Age: 26
Location: on sunshine
Posts: 18


Top 10 List: < click >
[DF32] LuQas - Altered States/Replicant (& Remixes) OUT NOW!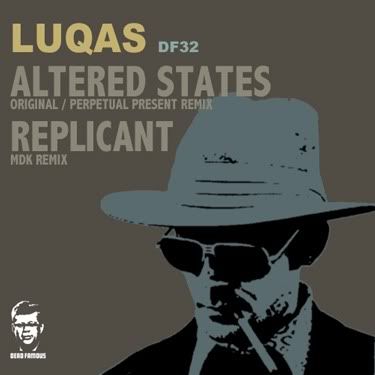 LuQas – Altered States (Orig / Perpetual Present Mixes) / Replicant (MDK Remix) [DF32]
OUT NOW :: at Beatport for the next 2 weeks, and then everywhere else afterwards.

This month sees the release of another original from up-and-comer LuQas, who has made quite a name for himself in the past year. As someone who's big on the big psy/tech phenomenon going on in breaks, Luke has definitely carved himself a niche as one of the names to look for when describing tunes of that sort. We at Dead Famous are proud to present his newest original, entitled "Altered States". Leaning heavily on the psy this time around, Altered States is a dark and driving acid riddled monster that would fit quite nicely in both breaks and psytrance sets. If psybreaks are your thing, this is definitely something you'll geek out over, as it twists your brain fourteen different ways on the way to victory.

On the remix front, we've got Perpetual Present. Fresh off his stunning remix of Robosapiens & Break the Box's "Summer Rolls", and recent original signing to Dead Famous entitled "Big Badger Theory" (out later this year), Perpetual Present has been one to watch for quite some time. We're obviously big fans of his, and this remix shows quite why. Taking the driving evilness of the original and turning it into a mammoth techy number, the bassline on this tune might actually contort your face to the point where even your own mother will not recognize you. No lie. Lastly, but surely not least, we are excited to release the winning entry in our recent remix contest for LuQas's "Replicant", MDK. The proverbial field was quite full of great entries, but MDK hit us right where we love it, delivering a hands in the air funky, psy-inspired anthem of a remix. Clearly this entry shows that while he's still new to the game, his future is so bright it's unreal. So much so, in fact that we've already pegged him for something else later this year.

Don't take our word for it, here's what others had to say about the Remix LP:

Far Too Loud "Most impressive track from Luqas so far I think. Perpetual Present remix also a banger. bigups!"

Neurodriver "Pick of the bunch for me is the clean & funky MDK remix of Replicant which is really cool"

Kultur "Fantastic Release ! All the tracks of this release are 100% to the dancefloor !! I will support it in my Kultura Breakz show (iBreaks radio) in the next weeks and also in my live sets."

EK "Really like the MDK remix, nice flow . Really like to hear more from MDK. Also liking the Perpetual Present remix. Nice!"

Hedflux "Nice one for this! Really like the original mix, proper driving psybreaks with a hypnotic progression to it. The MDK remix is cool too, good production and arrangement, and catchy riff from the original. All round a good quality release!"

Stephen Cole "The Perpetual Present remix is the heat!"

Karton "The MDK remix of replicant is a banger, the Altered States original is great as well. Both will get plays."

Duane Barry "Incredible sounds from LuQas once again so dark and driving love all the nasty synth stabs and PP have done a great remix feeling that growly bass. Impressed with the MDK remix wonderfully uplifting and the bass is great - might have to get him for DSUK sometime! Big ups, this package will be huge
"

Kickflip "the MDK remix is hands down the pick of the package for me! Utterly firing and definitely looking forward to hearing more of his output."

Lee Martin / Dusted Breaks "Prefer the remix of Altered States, although the original sent my head spinnin with its mental'ness (is that a word?) Love what MDK did to Replicant and will try and play this one out."

Retroid "Massive EP! Original and MDK remix for me."

As always, Keep it Evil.
---
.chel.
Dead Famous Recordings
Dead Famous on Myspace